In pyrolysis, much like gasification and other applications, a fluidized bed can be utilized in a way such that the "agent" or combustible gas being used to provide heat to the reactor will flow through the reacting particles (sand or char/biochar) in such a way that these particles will be fluidized and the feed going to the reactor will be immersed in this reacting environment. Like in many pyrolysis methods, the product gases will pass through cyclone filtration for separation of particles in the gas, then move on to a quenching system, where the actual –bio-oil will be collected. The gases left over will move toward an electrostatic precipitator where left over particulate matter will be removed and the remaining non-condensable gas will be combusted and will provide heat to the pyrolysis reactor in a recycle system.
Flow Diagrams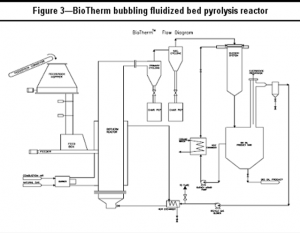 (Source: http://bioweb.sungrant.org/Technical/Biopower/Technologies/Pyrolysis/Default.htm)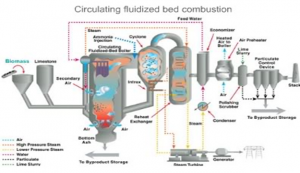 (Source: http://theenergycollective.com/jcwinnie/26801/combined-heat-and-power-rice-husks)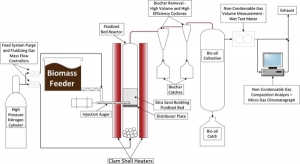 (Source: http://www.sciencedirect.com/science/article/pii/S0016236112002037)

Equipment
Hopper
Economizer
Polishing Scrubber
Stack
Steam Turbine
Injection augers
Clam Shell Heaters
Videos
RECYCLING PLASTICS
Fluidized bed biomass gasification experiment -- re-light (part 5)
ARENA COMET GROUP; " How a Fluidized Bed works (by using thermal technology)"
References
http://www2.warwick.ac.uk/knowledge/engineering/recycling/
http://www.youtube.com/watch?v=PzPWooJ_qyA
http://www.youtube.com/watch?v=43UFz3QLGGQ