Alcoholic fermentation, also called ethanol fermentation, is a biological process in which sugars such as glucose, fructose, and sucrose are converted into cellular energy and thereby produce ethanol and carbon dioxide as metabolic waste products. Because yeast performs this conversion in the absence of oxygen, alcoholic fermentation is considered and anaerobic process. Sugarcane is rich in sucrose and thus it is used as a feedstock to produce the biofuel ethanol. Ethanol is generally available as a byproduct of fermentation. It can be used as a biofuel alternative to gasoline and is widely used in cars in Brazil.
Flow Diagram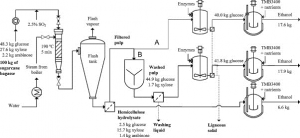 (Source: http://www.sciencedirect.com/science/article/pii/S0016236100001320)

Equipment
Hopper
Harvester
Pump
Injection Tank
Reactor
Condenser
Mist Separator
Tank
Distillation Tower
Video Links
RHUM BIELLE .Distillerie Agricole BIELLE .Marie galante Guadeloupe.
sugar-cane Ethanol plant in Brazil
Reference